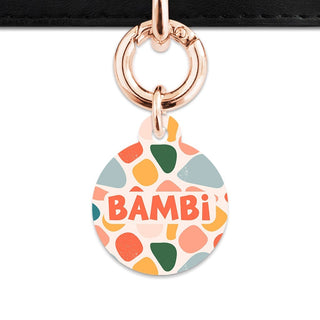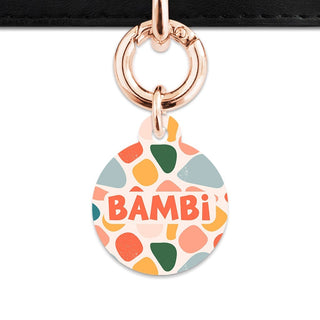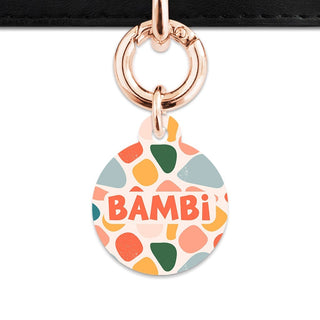 Specs
Tag Dimensions
Circle tag- 31mm (1.25") x 38mm (1.5")
Bone tag - 28mm (1.1") x 37mm (1.4")
Heart tag- 31mm (1.25") x 35mm (1.38")
All tags feature permanent printing on both sides and come with FREE silver hardware which can be upgraded to gold, rose gold or black for an added $3.95
You can have a maximum of four lines of text on the back of your tag.
You may put any information that you desire on your tag, we have added some suggestions below.
1. Name
2. Contact number
3. Microchipped
4. Extra phone number/ owners name
** Please note that although our tags are tough, they are not chew proof. Excessive chewing or biting can damage the tag design and finish**
Shipping
All of our tags are proudly handcrafted in Sydney Australia and are made to order just for you!
Please allow 3-5 business days for your tag to be made before it is shipped.
For all shipping options, rates and time frames please click here.
Your doggo NEEDS one!!!
i've always gotten the bailey and bone tags for all my puppers, the cute designs, the quality, the choice of hard ware… the list goes on!!! seriously amazing quality and i love that they're an local small australian business!!! highly recommend
Beautifully Made
This is such a nice pet ID Tag. Well made, clear and bright colours. It looks so great on our Beagle girl, Roxy. Really suits her playful personality!
Dog tag
Gorgeous name tag for our old pupperino. Love the design. Very good quality. She is one stylish pup!
So many cute choices!
The personalised dog tag we bought from Bailey & Bone was great! There were so many design choices, it was hard to pick one. Came in a cute velvet package and is really thick and high quality. Would definitely recommend to our friends and order again if needed!
Great
I bought these for my puppy and 3 friends as gifts. We all love them and think they are gorgeous! Had to get a couple of smaller jump rings for the smaller dog breeds.