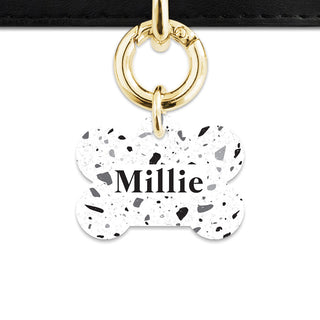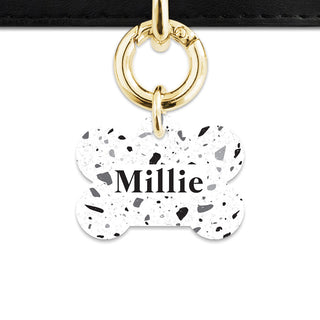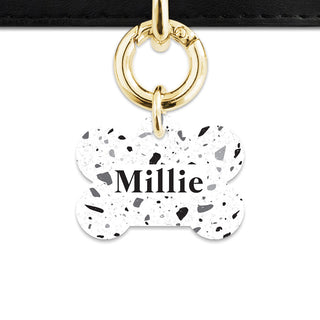 Black And White Terrazzo Pet Tag
Hardware Colour
Silver
Gold
Rose Gold
Black
Specs
Tag Dimensions
Circle tag- 31mm (1.25") x 38mm (1.5")
Bone tag - 28mm (1.1") x 37mm (1.4")
Heart tag- 31mm (1.25") x 35mm (1.38")
All tags feature permanent printing on both sides and come with FREE silver hardware which can be upgraded to gold, rose gold or black for an added $3.95
You can have a maximum of four lines of text on the back of your tag.
You may put any information that you desire on your tag, we have added some suggestions below.
1. Name
2. Contact number
3. Microchipped
4. Extra phone number/ owners name
** Please note that although our tags are tough, they are not chew proof. Excessive chewing or biting can damage the tag design and finish**
Shipping
All of our tags are proudly handcrafted in Sydney Australia and are made to order just for you!
Please allow 3-5 business days for your tag to be made before it is shipped.
For all shipping options, rates and time frames please click here.
Terrazzo dog tag
Love the tag! The terrazzo is a perfect match for my dog who is white with black spots. The text is easy to read. Overall great quality and a perfect match for my pupper.
Black and white terrazzo pet tag
I absolutely love the black and white Terrazzo pet tag I got for my puppy! The writing is clear and a good size, unlike other pet tags which are small writing.
Cutest
This Terrazzo tag was exactly what I was looking for to suit my blue Merle boy. Printed perfectly, and the choice of metals was great. Very happy with my purchase.
Excellent!
Awesome service! Came exactly like the photo! Even emailed them asked to change the name on the tag last minute. Team was so nice and understanding and made changes with no hesitations! So happy with my fabulous order will definitely buy again!
Terrazzo Pet Tag
Absolutely beautiful! Love the black hard wear, all round amazing quality!! Thank you x